Room-typesComfortable hotel rooms, luxury suites and unique family rooms
All rooms are situated on ground floor and hav a separate terrace. You can book any tupe of room with any package. On suites and familyrooms a surcharge applies.
Aparthotel Delden has the following room types:
Hotelrooms
Suites
Family or group-rooms (4 to 6 persons)
Unique in Aparthotel Delden are the family rooms. These rooms, with 4 -6 beds have a living room, 2 bedrooms, bathroom and terrace. These rooms are eminently suitable for a weekend or midweek with family are larger groups
Hotelrooms
Comfortabele hotelrooms assure a carefree stay.
Hotelrooms offer twin beds, bathroom with shower and terrace.
Bathroom with shower and toilet
Writing desk in the room
Terrace
Minibar
Kettle
Flatscreen TV
Safe
Hairdryer

These double hotelrooms can be used as single rooms as well.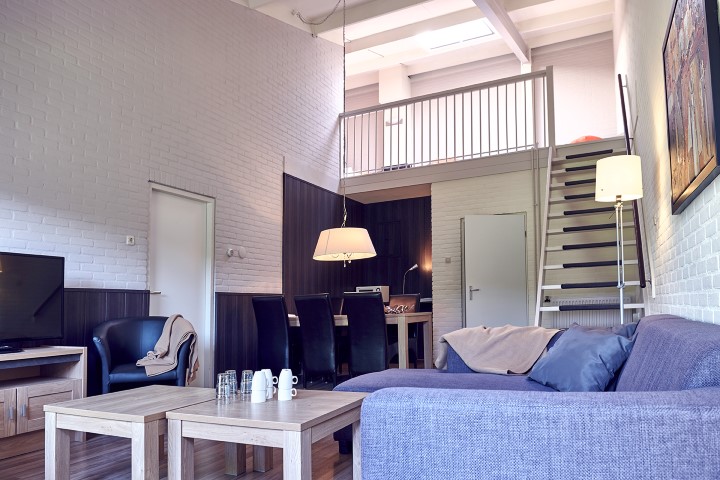 Familyrooms
Spacious family rooms for families or groups.
Familyrooms are suitable for families or groups. These rooms with 4,5 or 6 beds have a living roomtwo bedrooms, bathroom and terrace.
Bathroom with toilet and shower or toilet, bath and shower
Living room with lounge area
Terrace
Fridge
Kettle
Microwave
Flatscreen TV
Safe
Hairdryer
These familyrooms are especially equiped for a weekend with your family, children or grandchildren.
Suites
Luxurious, spacious suites with extra comfort.
De suites are quietly situated and modernly furnished. You can enjoy the space of a seperate living room. The bathroom offers both shower and bath.
Bathroom with bath, shower and toilet
Seperate livingroom with seating area
Terrace
Minibar
Waterkoker
Flatscreen TV
Safe
Hairdryer
The luxury suite offers moor space bij de seperate living room, barthroom and bedroom.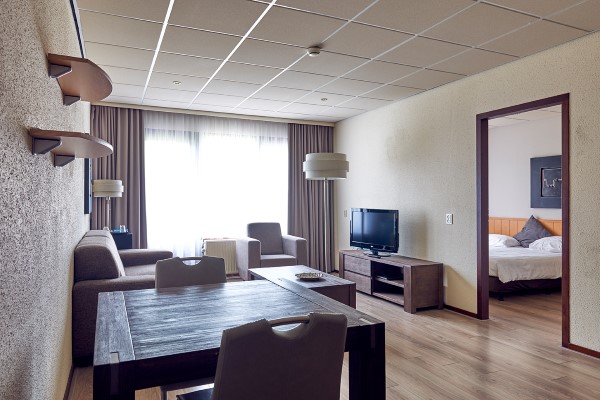 Suite Disabled
Spacious luxurious suite, adapted to provide a comfortable stay.
This suite has a seperate livingroom. The bathroom has a bath (not modified) toilet with support and shower with support-chair.
The bed is increased in height.
Bathroom with bath, adapted shower and adapted toilet
Living room with couches
Terrace
Minibar
Water kettle
TV
Safe
Hairdryer
Budget-rooms
Every budgetrooms offers twinbeds, bathroom with showers and toilet, terrace.
Budgetrooms are non-renovated hotelrooms.
Bathroom with shower and toilet
Terrace
Minibar
Flatscreen-TV
Safe
Hairdryer